Wednesday, 23 October 2019
: Three years ago, Jearlyn Seow Poh Hui's dreams of becoming a jockey were shattered when she was told "she couldn't ride".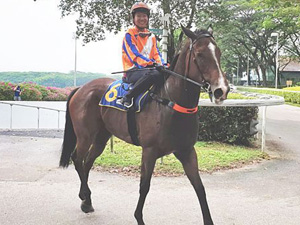 Jearlyn Seow returns from her first barrier trial ride aboard Amazing Choice on Tuesday morning.
The then 23-year-old girl from Jurong was three months into the Singapore Training Academy for Racing (STAR) course for track riding when given the news no student wants to hear.
She dropped out of the course, but though discouraged, she decided not to give up on her dream. She carried on with her job as a syce/track rider with trainer Steven Burridge, determined to keep learning on the job.
Then came another setback when she broke her ankle in a trackwork fall, sidelining her for three months.
Maybe the stars were telling Seow, who made her first steps as a stable employee with trainer Leslie Khoo in 2014, that her career lay elsewhere, but again, the gritty lass pressed on.
Last year, she moved to champion trainer Mark Walker's yard for better opportunities and one year later, she took one step closer to realising her dream, even if there is still a long way to go – a ride in her first barrier trial.
Walker decided to throw his new track rider in at the deep end with a leg-up on Amazing Choice in Tuesday's last barrier trial.
Though Amazing Choice missed the start slightly, Seow didn't panic and allowed her mount to stride along in between runners before letting him amble to the line in last place.
A beaming Seow was led back to scales, looking like she had just won the Derby or the Gold Cup. To her, ticking that first barrier trial box was just as exciting.
"The boss told me to take it easy as Amazing Choice was an easy horse to ride, but I was still very nervous and excited," said Seow.
"We missed the jump and we had to catch up with the others, but the horse knows his way around. I just followed the rest.
"I hope I will get to ride in more trials. Mr Walker has helped me improve a lot since I joined him last year.
"Mr Burridge and Mick Lockett who brought me there were also very helpful, but Mr Walker has got plenty of horses and there were more chances to ride there."
Walker, who has also taken on board a new apprentice jockey in the former Frank Maynard-indentured Aiman Kamaruddin (rode Augustus one trial earlier), was glad to see Seow go around her spin without any hitch.
"She rode very well. I'm glad she completed that first trial," said the New Zealander.
"She's actually made very good progress since she's come to me. I've also got Aiman, who is a lot more experienced as he was already an apprentice jockey to Frank Maynard."
Walker recently parted ways with Malaysian apprentice jockey Riduan Abu Bakar after the latter was handed a second lengthy ban for a handling charge in the space of five months.