Friday, 18 October 2019
: Despite being more of a stayer, Japanese mare Makanani sprang a mini-upset in the Group 1 Raffles Cup (1600m), but ironically, trainer Hideyuki Takaoka said that the $800,000 Group 1 Queen Elizabeth II Cup over the 1800m this Sunday will be an even tougher test for her.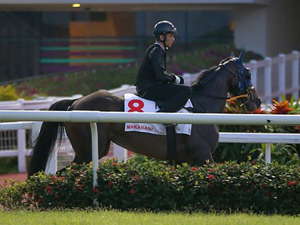 Makanani
The Raffles Cup and QEII Cup are the first and second Legs of the Singapore Triple Crown series, with the Group 1 Dester Singapore Gold Cup (2000m) the last Leg on November 10.
In the Raffles Cup, the five-year-old daughter of Black Tide was a $93 drifter, but under a to-the-minute ride by French jockey Marc Lerner, she upstaged better-fancied rivals like Countofmontecristo, Mister Yeoh and Mr Clint, beating the latter by a nose.
Takaoka said the Masa Otani-owned mare has pulled through well after the gut-busting run, but is cautious about his mare making it two-from-two in the tough series, let alone the historic first Singapore Triple Crown.
To the Japanese handler who is well known as a dab hand at preparing stayers (the Gold Cup prelude is named after his triple-Gold Cup-winning horse El Dorado, Otani's best horse), especially of the female kind (Better Life, Jolie's Shinju and now,
Makanani
, the full-capacity field makes for a daunting task.
"It's not so easy this time. There are 15 runners to beat," he said.
"She beat a big field in the Raffles Cup, too, but I think the opposition is slightly tougher this time, even if she is running against more or less the same rivals.
"The 1800m is no problem, and I think she'll also be even better over the 2000m of the Gold Cup, but Mr Clint also ran a good race in the Raffles Cup.
"The mile was obviously too short for Mr Clint, and he will also appreciate the extra 200m, and later the extra 400m of the Gold Cup. I think he'll be even more dangerous this time."
Takaoka said Makanani has neither improved nor regressed form-wise, and should on paper be presented in the best possible order on Sunday.
"She has maintained her form after the Raffles Cup," he said.
"Obviously, she took a break for one week, she didn't do much, but she's been coming back to her best since. Marc (Lerner) knows how to ride her, and even though she's drawn wide (12), I'm sure he'll know what to do.
"There won't be any gear change, as she's always raced with earmuffs. At her last start before the Raffles Cup, she pulled too hard because she found herself alone in the lead.
"She's better off settling just behind the speed with some cover."
Makanani has drawn barrier No 12 (she drew nine in the Raffles Cup), which does not seem to bother Takaoka or Lerner too much.
Lerner will for one be hoping history repeats itself in the Raffles Cup. The former German-based jockey won his first career Group 1 win with Makanani and will now be hoping for a double dose within one month.
"Nothing much to add about the mare other than she has worked well, everything seems fine with her," said Lerner, who was in a rich vein of form last weekend after scoring a treble, including a double for Takaoka, Sun Elizabeth and Wind Trail on Friday night.
"She has drawn 12, we will need a trouble-free run, and hopefully she gets all the favours. We will just wait for Sunday."